International webinar Platform Baggernet 'Sediment as a resource' & final symposium of Interreg project 'Using Sediment As a Resource'
In cooperation with Dutch Regional Water Authority of Schieland and the Krimpenerwaard and international partners – October 8th 2020
'Using Sediment As a Resource' was the theme of Platform Baggernet's international webinar, which took place on Thursday October 8th 2020. The webinar was combined with the final symposium of the Interreg-project 'Using Sediment As a Resource' (USAR). In light of the COVID-19 pandemic the planned Baggernet/USAR conference in March 2020 unfortunately had to be cancelled. Instead, a webinar was organized.
The central focus of the webinar was sharing results of the USAR project, in which the Regional Water Authority of Schieland and the Krimpenerwaard (NL), Flemish Waterway (BE), ARMINES Research Centre (FR), Westcountry Rivers Trust (UK) and Brightlingsea Harbour Commissioners (UK) participate. The USAR partners identified, demonstrated, and tested new methods, and developed business models and tools that water managers need to apply this circular approach in practice.
Click here for an impression of the webinar.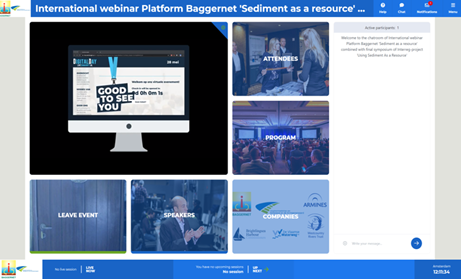 Virtual lobby including individual chatting possibilities with other attendees (EventInsight ©)
Most presentations and subsessions can be viewed online via the Youtube-links below.
Full length videos of webinar:
Opening of the program
Presentation 1A by Westcountry Rivers Trust
Presentation 2A by Westcountry Rivers Trust
Presentation 1B by Brightlingsea Harbour Commissioners
Presentation 2B by Brightlingsea Harbour Commissioners
Presentation 1C by Armines Research Centre
Presentation 1D by De Vlaamse Waterweg
Subsession 1 'Innovations in using sediment as a resource'
Subsession 3 'Governance aspects of taking the next step' (in Dutch)
Closing of the program
Video registration / summary of the webinar:
Trailer of video registration (40 sec.)
Video registration (1 uur)